Home
Funks Grove Cemetery
After having selecting a location for the Funks Grove Cemetery, Adam Funk, Isaac's father, was one of the first to be buried there.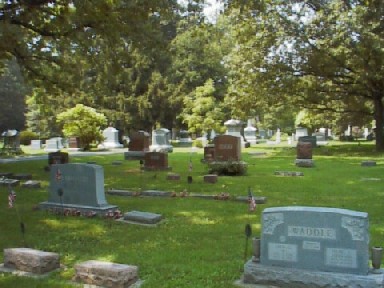 Since 1830 the Cemetery has continued to grow through the purchase of new land. The Funks Grove Cemetery Association provides perpetual care for this beautiful and peaceful location.
Rules and Regulations to follow while visiting Funks Grove Cemetery.
CEMETARY OPENS 7:00AM AND CLOSES AT DARK
NO ARTIFICIAL FLOWERS OR OTHER NON-FLORAL DECORATIONS FROM APRIL 1st THROUGH NOVEMBER 1st
ALL FORMS OF DECORATION NOT SPECFICALLY PERMITTED HEREIN MAY BE REMOVED. THIS INCLUDES BUT IS NOT LIMITED TO JARS, BOTTLES, STYROFOAM, CANS, CROCKERY, STATUARY, VIGIL LIGHTS, ORNAMENTS, POTTED PLANTS, HANGING BASKETS AND SIMILAR ITEMS. SHEPHERD HOOKS PROVIDED FREE OF CHARGE BY THE CEMETERY ASSOCIATION ARE THE ONLY SHEPHERD HOOKS ALLOWED
IMPROVEMENTS OR CHANGES OF A LOT OR GRAVE MUST BE APPROVED BY MANAGEMENT PRIOR TO IMPLEMENTATION
ANY AND ALL TREES, PLANTS AND SHRUBS ARE PROPERTY OF THE CEMETERY ASSOCIATION AND NOT PROPERTY OF THE LOT OWNER
ALL HOLIDAY DECORATION WILL BE REMOVED ONE WEEK AFTER A HOLIDAY
NO LOT OR GRAVE SHALL BE DEFINED BY ANY FENCE, RAILING, COPING, HEDGE, STEPS, OR SIMILAR APPARATUS
NO DOGS OR OTHER PETS ALLOWED IN CEMETERY. GUIDE ANIMALS ARE PERMITTED
SPRING CLEAN-UP SHALL BEGIN APRIL 1st. ALL DECORATIONS WILL BE REMOVED. THIS IS A COMPLETE CLEAN-UP OF THE CEMETERY AND ANY DECORATIONS TO BE SAVED MUST BE REMOVED BY THE OWNER PRIOR TO APRIL 1st
FRESH CUT FLOWERS, WREATHS ON STANDS, OR ARTIFICIAL FLOWERS (WHEN PERMITTED BY THESE RULES) MAY BE PLACED ON THE GRAVES SUBJECT TO REMOVAL BY CEMETERY ASSOCIATION PERSONNEL WHEN THEIR BEAUTY HAS DISSIPATED, OR NORMAL MAINTENANCE OF THE GRAVE SITE IS IMPAIRED


Funks Grove Cemetery Association's Complete Rules and Regulations are available from the caretaker at the Cemetery.